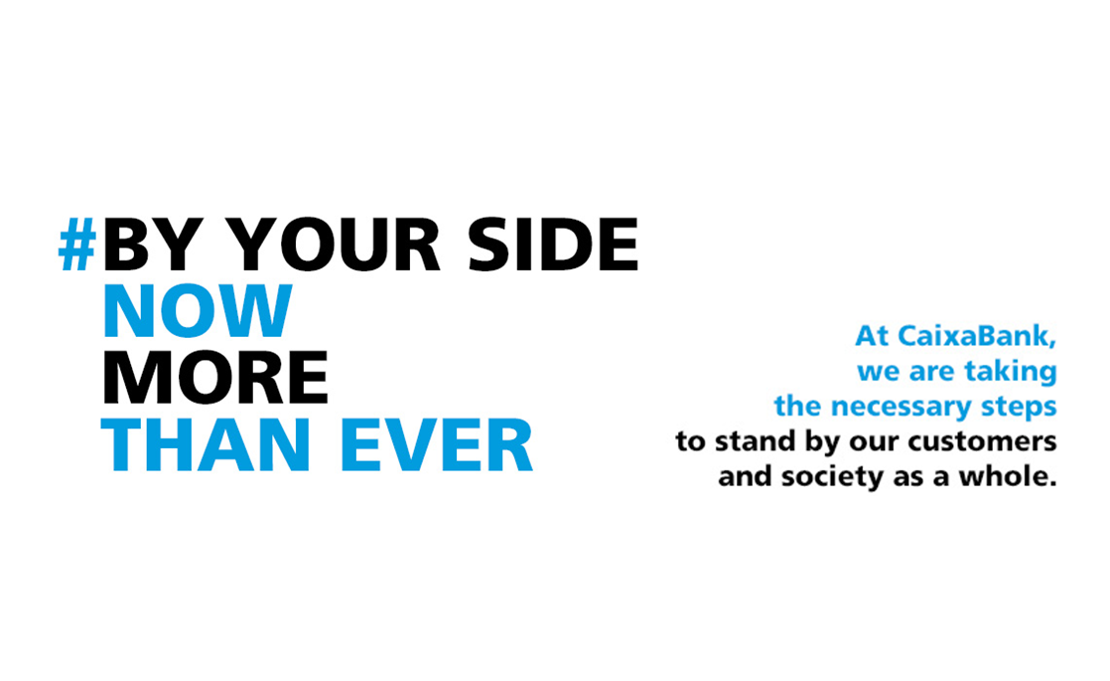 At CaixaBank, we have adopted all the necessary measures to support our customers, shareholders, employees, and society in general. As a socially responsible bank, our commitment to overcoming the coronavirus pandemic is driving us to find the best possible solutions to reactivate the economy together.
• With self-employed workers and SMEs
To alleviate the impact on the business world, we are offering €25 billion in preapproved loans for self-employed workers and SMEs.
Our customers (over 440,000 self-employed workers, 115,000 microenterprises [individuals with a turnover of up to €2 million] and 52,000 small businesses [individuals with a turnover of between €2 million and €10 million]) can take out working capital loans to meet their needs with a term of 24 months. These operations are processed instantly and require no additional documentation.
In addition, we are helping to process the new ICO loan facilities approved by the government to respond to the exceptional need for financing.
Further information here
• With retail businesses
We have launched a support plan to help small retail businesses manage the current situation, which has forced the majority of Spanish commercial establishments to close.
The measures of the plan include specific financing, reduced POS terminal fees, and the launch of a new e-commerce technology solution to help business owners boost their online sales through social media without the need to have a website.
Further information here
• With the elderly
To facilitate compliance with the recommendations issued by the authorities regarding mobility and health, we have adopted special measures and offer a priority in-branch service for our customers over 65 years old, 1.8 million of whom receive their pension by direct deposit.
We have brought forward pension payments to the 20th of the month. In addition, we have set up a special information and appointment booking service to facilitate pension cash withdrawals.
Further information here
• With families
To help all our customers manage their household finances during these difficult times, we have extended the mortgage payment grace period for borrowers affected by COVID-19. This process can be completed 100% online without the need to visit a branch, and your mortgage payments will be blocked immediately.
Furthermore, we have reduced the number of required documents to a minimum, and we analyse individually any applications that do not meet the requirements.
Further information here
To support people in vulnerable situations (due to unemployment, temporary redundancy plans, and self-employed workers with reduced or suspended activity), we have cancelled rental payments for our properties during the state of emergency.
Further information here
We are advancing the payment of unemployment benefits in response to the request of the authorities so that the beneficiaries receive the payment seven days earlier than normal. Customers do not have to submit an application. The funds will be deposited automatically in the accounts of anyone eligible to receive unemployment benefits on a regular basis.
Further information here
To avoid unnecessary travel, our customers can make debit card cash withdrawals for free at the ATMs of other banks. In addition, to reduce contact with other devices, we are facilitating contactless payments by increasing the limit for making payments without entering the PIN from €20 to €50 for all cards and POS terminals. Similarly, customers can use the CaixaBank Pay mobile payment app to make purchases without needing to touch the POS terminal.
Further information here
We have reinforced our CaixaBankNow online banking service (available on our website and mobile app) to help customers manage their finances and carry out almost any banking operation quickly and easily from the comfort of their home.
We also provide our customers with the largest ATM network in Spain, with more than 9,000, and our branch network, open for essential procedures, and where we have applied all the safety measures needed to protect the health of our customers and employees.
• With society
To offer further support to those in most need, we have launched online volunteering initiatives through the "la Caixa" Association of Volunteers, an organisation that directs the corporate volunteering work of CaixaBank and the "la Caixa" Foundation that see thousands of members participating in year-round volunteering programmes.
The first project carried out successfully is "Cartas contra la soledad" [Letters to combat loneliness], intended to share correspondence with seniors who are isolated and unaccompanied because of the current situation.
Further information here
Together with the "la Caixa" Foundation, CaixaBank is promoting an emergency food bank campaign. The "No home without food" campaign aims to collect as many food products and funds as possible to meet the needs of people who have been affected by the current situation.
Further information here
By adopting these different initiatives and measures, CaixaBank aims to mitigate the economic impact of the coronavirus and to highlight the efforts of all its employees to support the society during these difficult times.