At CaixaBank we run a programme of Corporate events with shareholders where at each session the entity's executives present relevant corporate information and shareholders can ask questions about the company.
The Corporate events with shareholders convened in person have been successfully held in recent years in major Spanish cities. A new format of virtual Corporate events was launched in 2019. This was a pioneering digital initiative in the IBEX 35 to promote transparency and openness with the shareholder base.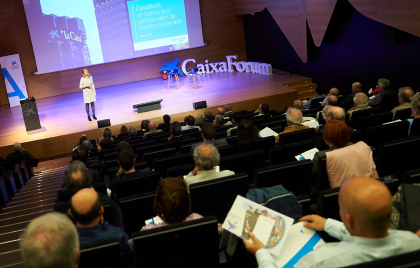 In 2020, three Corporate events were held in person and these took place in the first two months of the year. As a result of COVID-19, virtual Corporate events were encouraged for the rest of 2020, these having already been launched in a pioneering way in 2019. Specifically, three virtual Corporate events were held, attended by a total of 2,415 shareholders.
Find out about the sessions of any scheduled future Corporate events (virtual/in person) and register to book your place through the Shareholder's agenda. Places are limited.