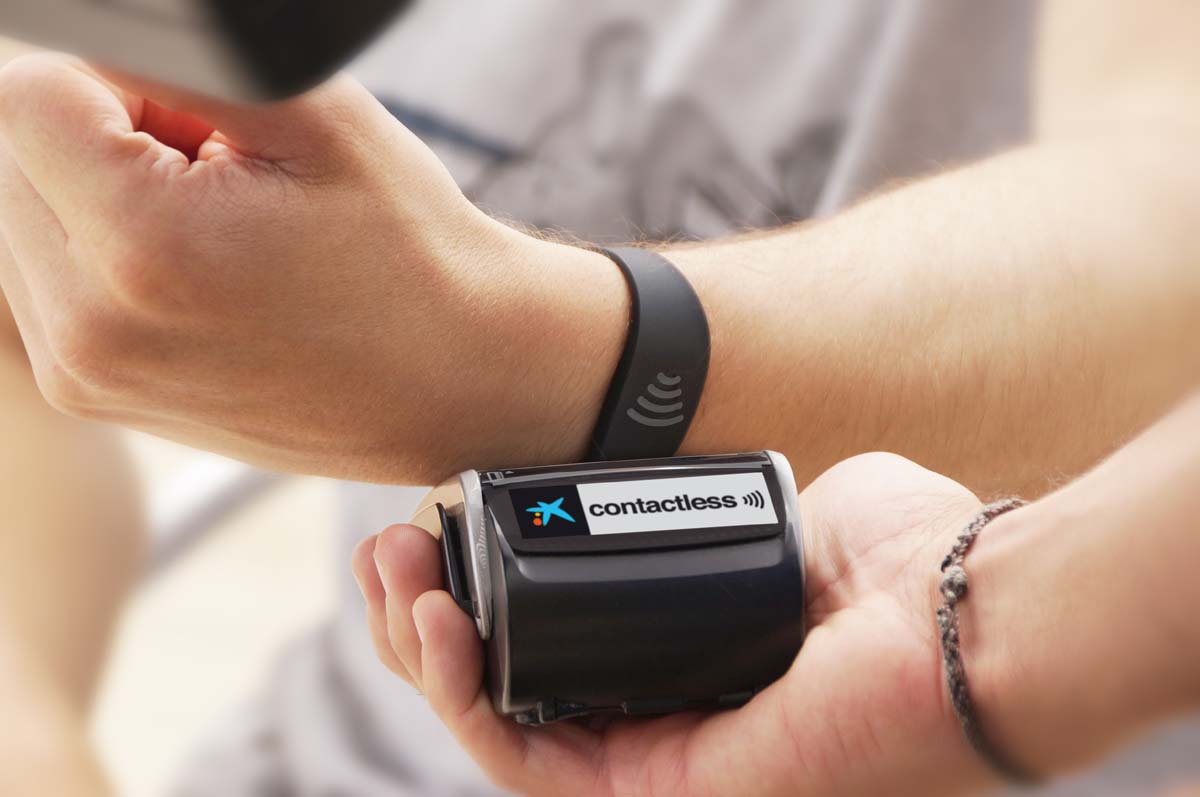 • This is the largest programme in Europe to use wearable devices to make real Visa payments.

• The wristband supports fast and convenient payments, with users simply having to bring their wrist close to the retailer's PoS.

• The launch incorporates two key areas of innovation where CaixaBank has been an international pioneer: contactless payments and wearable banking.
For the first time in Europe, CaixaBank has launched a Visa wristband that allows users to make easy payments at merchants using the contactless system. The band allows the bank's customers to carry payment cards on their wrists, making for fast and convenient payments at more than 300,000 businesses across Spain.
This summer CaixaBank plans to distribute 15,000 contactless wristbands to those customers who have made the most use of their contactless cards. The launch will thereby become the largest programme in Europe to use wearable devices as a payment method with Visa. The wristband will be made available via the bank's entire branch network in the second half of the year, with customers able to make their own designs and get hold of their bands through all the usual banking channels.
The wristband uses contactless payment technology: inside is a microtag with the customer's encrypted card details, protected with the same security guarantees as normal cards (EMV system). The contactless chip connects the wristband to PoS systems to complete transactions just like a standard contactless card. All this technology is united in a small gadget featuring an adjustable strap and hypoallergenic materials.
Complete payments with a simple tap of the wrist against PoS terminals
The elastic and adjustable Visa contactless wristband can comfortably be worn by users as they go about their day. It is also water-proof and damp-proof, making it ideal for the summer months. Users can wear the band while working out or during outdoor activities without having to worry about a thing.
The wristband also represents an additional card to the user's existing contactless card, meaning all purchases are charged in exactly the same way as with their normal card. Furthermore, wearing the card at the wrist is more convenient and more secure, as users won't need to take it off to make payments, ensuring much faster purchases.
Interaction with the PoS is the same as with existing contactless cards, except that the wearer simply brings their wrist close to the terminal rather than a card. The device will connect via proximity and complete the transaction. As with contactless cards, for purchases over 20 euro customers will have to enter their card PIN to validate the transaction. Purchases of less than 20 euro can be made simply by bringing the device close to the merchant's PoS.
The system is fully compatible with all PoS systems that support Visa contactless payments all over the world.
All the existing security guarantees and free CaixaProtect coverage
The wristband has all the same security features as normal contactless cards. Thanks to EMV technology, purchases made with the band are fully encrypted.
Furthermore, like all CaixaBank cards, the contactless wristband is covered by the CaixaProtect service free of charge, which protects customers from potential fraudulent card use.
To ensure that customers have complete control over transactions completed using the wristband, CaixaBank has set up a specific application that alerts users immediately of any transactions made using the device. The application is completely free of charge and can be downloaded via an SMS that is sent to the user when they activate their wristband. The application is also available via the bank's app store, CaixaMóvil Store.
Uniting innovation in payment methods and wearable banking
The rollout of these wristbands sees CaixaBank bring together two areas of innovation that have already had significant international success: the contactless payment system and wearable banking. Back in 2011 CaixaBank became the first bank in Europe to launch a large-scale contactless card payment system. CaixaBank now has more than 4 million contactless cards in circulation, 200,000 contactless-ready PoS systems and accounts for 16% of all contactless payments made in Europe, according to Visa estimates.
Meanwhile, in early 2014 CaixaBank launched its first financial services for new wearable devices, including the world's first application for smartwatch devices and an application to help Google Watch users locate branches and convert currencies.
The contactless wristband unites these two trends, providing users with wearable financial services and all the benefits that these entail, particularly in terms of convenience, security and speed when making payments.
By diversifying payment formats, customers can choose the system that suits them best: card, mobile or wearable device. CaixaBank currently has more cards in circulation than any other bank in Spain, at more than 12.5 million, and has also pioneered mobile payments via its NFC service.
CaixaBank, a global leader in innovation
CaixaBank is Spain's leading bank in terms of innovation. It has 4 million mobile service users and has registered over 8 million downloads from its mobile app store. It also has more than 9 million online banking customers and, according to Comscrore, the sixth most visited website in Spain.
It is also considered a global leader in innovation and new technologies. The bank has won numerous awards for its work in innovation, including being named the World's Most Innovative Bank at the Global Banking Innovation Awards, run by the Bank Administration Institute (BAI) and Finacle.