• DayOne, the financial institution's division specialised in innovative companies and their investors, offers visitors tailored advice at its stand and meeting rooms, and a schedule of conferences and speeches.
• Several spaces at MWC and 4YFN will host speeches from representatives of CaixaBank, Comercia Global Payments, Start4big and Payment Innovation Hub.
• CaixaBank spokespeople, together with those from Fujitsu and FacePhi, will present the new ATM with facial recognition technology.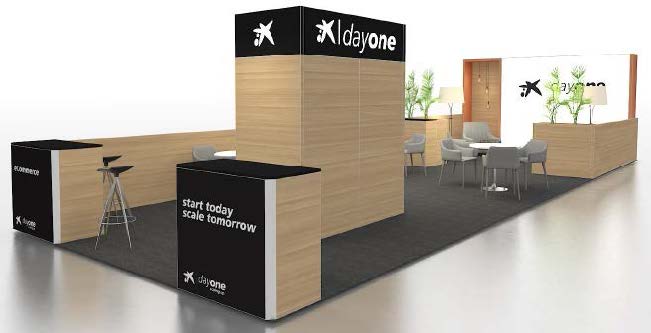 CaixaBank, in line with its ongoing commitment to innovation and supporting companies with a high growth potential, has launched a full schedule of activities for the 2019 annual edition of Mobile World Congress, held in Barcelona from 25 to 28 February.
The bank will be particularly active at 4YFN, the space that gathers together entrepreneurs and investors, where CaixaBank DayOne, the unit specialised in innovative companies, will have its own space and a broad schedule of activities and services. The bank will also be present in other areas of the MWC.
Below is a summary of CaixaBank's activity at the upcoming major event for global innovation:
CaixaBank DayOne: ongoing assistance for start-ups and scale-ups at 4YFN
Through DayOne, its specialised division for technology and innovation companies and their investors, CaixaBank is participating as a 4YFN silver partner and, as such, it will be one of the most active companies at the MWC space, custom-designed for the entrepreneurial ecosystem.
Specifically, from 25 to 27 February CaixaBank DayOne will offer:
A space offering services to start-ups, scale-ups and investors, where CaixaBank's specialists will provide customised advice.
"Agora", a space that replicates the state-of-the-art auditorium of the DayOne centres, and which will host similar conferences and meetings to those usually held in these areas.
Exclusive workrooms for CaixaBank DayOne customers that can be used for their individual meetings during the congress, by appointment made over the internet or during the event.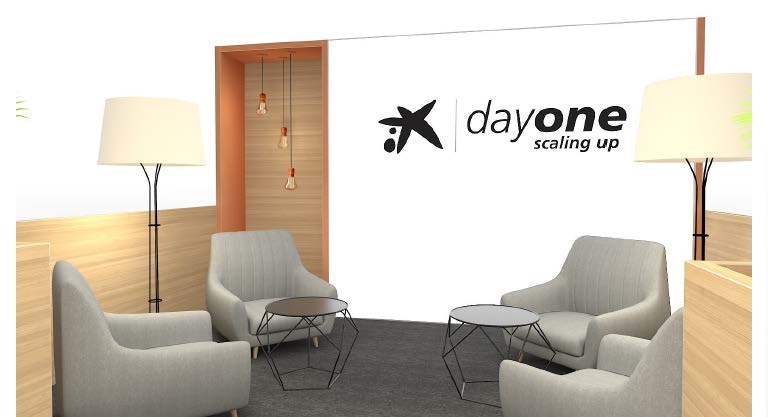 Comercia Global Payments: the key to new business models
Comercia Global Payments, the joint venture between CaixaBank and the technological multinational Global Payments, specialised in payment services for stores, will also take part in 4YFN, where it will set out the key ways to monetise new business models. It will do so with real examples from newly founded companies, who will explain their experiences with the payment solutions offered by the bank.
These sessions will be held on Tuesday 26 February in the CaixaBank DayOne "Ágora" room at 4YFN at 16:30.
International presentation of the CaixaBank ATMs with facial recognition
CaixaBank will present its latest innovation at MWC 2019: ATMs that use facial recognition to allow customer withdrawals without entering a PIN. The bank's managers, together with representatives of Fujitsu and Facephi, CaixaBank's partners in the project, will give a conference presenting the successful collaboration between the bank and the two technology companies.
It will be held on Monday 25 February, at 13:30, at the Mobile World Capital stand at 4YFN.
Digital Future Society Summit: the ethics of data
On the Sunday prior to MWC, a session will be held on the ethics of data during the Digital Future Society Summit; a forum where experts, employers and civic leaders will explore how we can build a more equitable, sustainable and inclusive future in the digital age.
Pere Nebot, CaixaBank's Chief Information Officer, will take part in the conference, to be held at the Palau de Congressos on 24 February at 11:50, setting out the bank's good practice in personal data management.
Start4big: an alliance of big businesses to attract the talent of start-ups
Start4big is the first European initiative fostered by five large companies (CaixaBank, Aigües de Barcelona, Naturgy, SEAT and Telefónica), the purpose of which is to increase innovation and strengthen the national and international entrepreneurial network. It is a digital, open and multi-sector project created to attract both national and international start-ups that develop disruptive solutions and overcome various challenges in order to improve their consumers' experience and, in general, facilitate people's daily activities.
The representatives of each company taking part in this initiative will present the project on Monday 25 February at 17:30 at the Mobile World Capital stand, and on Tuesday 26 at 10:00 at the CaixaBank DayOne room.
Payment Innovation Hub: the power of collaboration to innovate
The Payment Innovation Hub is Spain's first innovation centre specialising in commerce and payment methods, promoted by CaixaBank, Global Payments, Samsung, Visa and Arval. Representatives of the companies promoting the hub will set out the lines of research and the R&D&I projects they are working on.
This session will be held on Wednesday 27 February at the 4YFN Garden Auditorium at noon.
Building innovation: vision of the new agents investing in the start-up ecosystem
Speeches organised in collaboration with the Spanish Capital, Growth and Investment Association (ASCRI), the Spanish Business Angels Association (AEBAN), the Spain Export and Investment ICEX and the Spanish Managers Association (AED) will also be held in the CaixaBank DayOne room. A debate will be held on the role of local and international investors in the construction of global champions on Tuesday 26 February at 11:45, which will feature speeches from representatives of Glovo and 21 Buttons, among others. New ways of investing in early-stage startups will also be analysed.