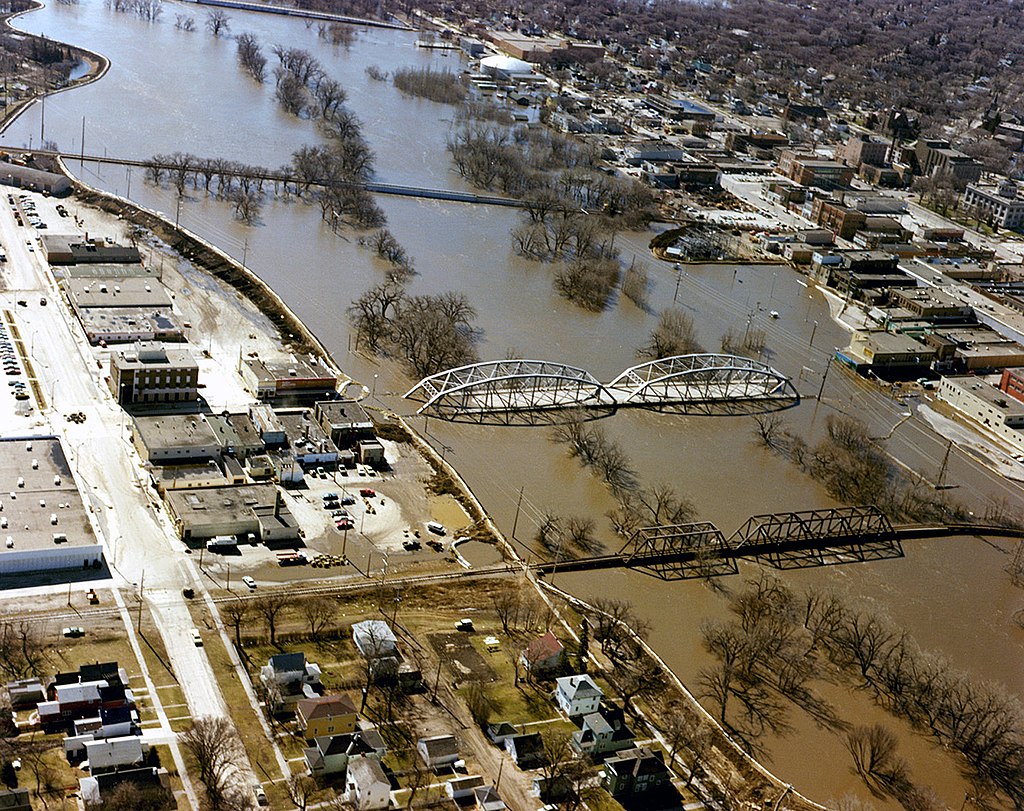 • This is the first US green funding project for climate change adaptation of a major infrastructure project.

• The infrastructure will have both an environmental and social impact by protecting from the floods two cities with a population of more than 250,000.
A consortium led by Acciona, together with Israeli company Shikun & Binui and US construction company North American Construction Group, has been selected to build and manage a flood prevention channel across more than 48 kilometres between Fargo (North Dakota) and Moorhead (Minnesota), with all its adjacent infrastructures. The project's goal is to divert river waters from these two cities that are regularly affected by flooding. Besides the environmental impact, this project has a direct social impact on the area's more than 250,000 inhabitants.
CaixaBank is the only Spanish bank to form part of the banking syndicate participating in the funding. The project has reached a total investment of up to $1.1 billion, distributed by an institutional tranche and a revolving credit facility of $642.5 million, with a term up to 6.5 years. In the financing, CaixaBank has participated as Green Coordinator and Mandated Lead Arranger, along with Sumitomo Mitsui Banking Corporation, under the green financing framework aligned with the international standards of the Loan Market Association. CaixaBank is also participating in the interest rate derivative associated with the revolving facility.
A trailblazing project in adaptation to climate change
This is the first US green funding project for a climate change adaptation of a major infrastructure project, in this instance, via a flood prevention channel. The project has been certified as green by Sustainalytics, one of the world's leading sustainability rating firms.
In 2021, CaixaBank became a strategic partner of Acciona, playing a key role as Sustainability Coordinator in the funding that the company has formally arranged.
In May, the bank advised Acciona Energía and completed a sustainable funding operation for a total amount of €3.3 billion, as part of the company's stock market listing. The loan incorporated a pioneering sustainability structure with twofold impact, linking the margin to the achievement of local sustainability goals and corporate goals. This was an innovative transaction, incorporating positive impact generation commitments.
In September, Acciona Energía also entrusted CaixaBank with the issuance of its inaugural green bond, worth €500 million, with a term up to 6 years. Both the lending product and the Acciona Energía bond were managed under the sustainable financing framework published in May by the company.
CaixaBank's international presence
Between January and September, the bank's international banking network has been involved in lending operations linked to ESG factors (environmental, social and good governance) for a combined amount of €1.66 billion. This represents a 137% growth year-over-year and a 73% increase compared to the total in 2020 (€960 million).
CaixaBank, committed to sustainable financing
CaixaBank is one of the financial institutions most committed to sustainability, given that its Socially Responsible Banking Plan covers five significant principles of action that include a direct contribution to the United Nations Sustainable Development Goals. Through its initiatives, the bank is supporting environmentally friendly initiatives and projects that contribute to preventing and mitigating climate change and support the transition to a low-carbon economy and social development.
In 2021, the bank mobilised €24.36 billion in sustainable financing, representing a 95% increase in the volume of sustainable financing throughout 2020. In total, €7.3 billion have been formally allocated in funding linked to ESG variables, including environmental goals, such as reduced emissions and energy efficiency, as well as €690 million in green funding. CaixaBank has also participated in the issuance of 16 green, sustainable, or social bonds, worth a total of €16.3 billion. Notably, at the end of Q3 2021, CaixaBank ranked as the 5th in Europe by volume of green and sustainable loans, according to Refinitiv.
To date, CaixaBank has issued seven bonds in support of the United Nations Sustainable Development Goals, and is Europe's leading bank with the highest volume of ESG credit issuance in euros: four green bonds and three social bonds, for a total value of €6 billion and £500 million.