CaixaBank is the leading financial group in the Spanish market both in banking and insurance and is developing a strategy of diversification with stakes in international banks and leading service companies.

The Group's essence and most distinguishing feature is its involvement and firm commitment to society. CaixaBank runs its banking business based on the values of leadership, trust and social commitment.





Mission, Vision and Values

The Group's mission is to fully satisfy the financial needs of the greatest number of customers through a suitable and comprehensive range of products and excellent quality of service, with a commitment to provide value to customers, shareholders, employees and society as a whole.

Our vision is to be the leading financial group in Spain, with a global approach, recognised for its social responsibility, quality of service, financial strength and ability to innovate.

The Group bases its business and social initiatives on its corporate values of quality, trust and social commitment. Quality is defined as wanting to serve customers by offering them excellent service and products best suited to their needs. Trust is the result of honesty, professionalism and proximity. Lastly, social commitment is part of the foundation essence of the Group, underlining its objective of contributing to the development of a fairer society where more equal opportunities are available.

"la Caixa" Group

CaixaBank is the result of a banking and financial tradition that began in 1904 with the foundation of Caja de Ahorros y Pensiones de Barcelona, "la Caixa", which started out with the management of family savings, and offered its clients a pension insurance a full century before this type of social benefit was established.

From the very beginning, "la Caixa" was defined by a strong social commitment. Through its Welfare Projects, it developed social and charitable actions to offer solutions to new challenges and social requirements. Additionally, it worked to create of opportunities for people. Thus, a great part of its activity was focused on disadvantaged people with a higher risk of exclusion. In 2014, and for the seventh consecutive year, the funding for Welfare Projects remains at €500 million.

Furthermore, "la Caixa", through Criteria CaixaHolding, "la Caixa" became Fundación Bancaria Caixa d'Estalvis i Pensions de Barcelona, "la Caixa", is developing an investment strategy though stakes in businesses in different economic sectors that are essential for the community, which include in particular Abertis (transportation and communications infrastructure management), Gas Natural Fenosa (energy distribution), Suez Environnement (water and waste management services), SABA (management of parking lots and logistics parks) and real estate services.

"la Caixa" transferred its financial business to CaixaBank in June 2011 and, later on, in June 2014, "la Caixa" became Fundación Bancaria Caixa d'Estalvis i Pensions de Barcelona, "la Caixa", in compliance with the Law on Savings Banks and Banking Foundations of 27 December 2013.

Within the transformation process, the following agreements were also reached: on the one hand, the dissolution and liquidation of the "la Caixa" Foundation, which transferred its activity to the Banking Foundation, and on the other hand, the transfer of the "la Caixa" shares in CaixaBank in favor of Criteria CaixaHolding - integrally held by "la Caixa" - so that the "la Caixa" Banking Foundation goes on to hold a share in CaixaBank through Criteria CaixaHolding.

Positioning

CaixaBank works to consolidate its leading position on the Spanish market and to continue increasing its market share through a comprehensive offer of products, services and channels, a specialised model of attention and its vocation for innovation and service quality.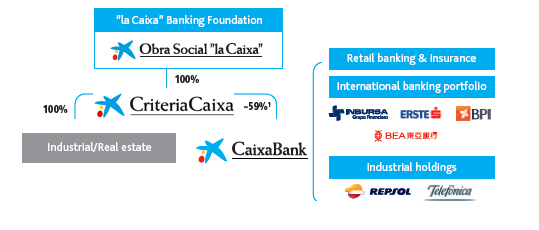 CaixaBank brings together the vocation of leadership and growth and its commitment to people and the environment by focusing on competitiveness and creation of wealth as the foundations for making a decisive contribution to general society.
With the recent mergers and takeovers of Banca Cívica and Banco de Valencia, and the agreement to acquire the retail banking, wealth management and corporate banking businesses of Barclays in Spain, CaixaBank has strengtheneds its leadership in the Spanish financial market.