CaixaBank is a financial group, leader within the Spanish market, comprising a banking and insurance business, as well as undertaking investments in international banks and in leading service sector companies.
Group Structure1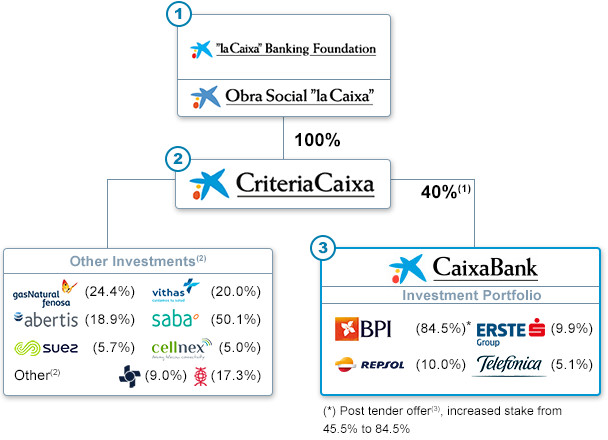 (1) Fully diluted stake post closing on May 30th 2016 of the asset swap detailed in Note 2 and considering the €750M Criteria exchangeable into CaixaBank shares maturing in Nov 2017
(2) The asset swap agreement between CaixaBank (CABK) and Criteria Caixa. Announced on Dec. 3rd 2015 under which CABK transferred to Criteria its 17.3% stake in BEA and its 9.01% stake in GFI in exchange for CABK treasury shares representing 9.89% of its share capital and €678 M in cash was closed on May 30th 2016
(3) Unlisted portfolio. Latest fig. reported by Criteria Caixa. "Other" incl. stakes in Aigües de Barcelona, Aguas de Valencia;100% of Caixa Capital Risc, Mediterranea Beach and Golf Community and RE business
The Group's essence – and what sets it apart from others – is its level of implication and unswerving commitment to society. CaixaBank is committed to banking based on corporate values of quality, trust and social commitment.

CaixaBank has the largest customer base in Spain – 14 million people – and is the main bank for 1 in every 4 Spanish customers.

The bank has the most extensive network in Spain, with over 5,000 branches and nearly 9,500 ATMs, complemented by a mobile and online banking service of the highest quality.

CaixaBank is also the tenth largest bank in the Eurozone in terms of market capitalisation.

Positioning

CaixaBank is focused on consolidating the Group's position as financial leaders in Spain and in being recognised for its social responsibility, the quality of service that it offers, the financial strength that has always characterised the bank and for its leading role in innovation.
CaixaBank seeks to consolidate its position as the epitome of a socially responsible and committed bank that is a point of reference in terms of good corporate governance.

With the recent takeovers of Banca Cívica and Banco de Valencia and the purchase of Barclays retail and business banking operations in Spain, CaixaBank has consolidated its position as the leader of the Spanish financial market.

"la Caixa" Banking Foundation: CaixaBank's main shareholder
CaixaBank's origins go back to a banking and financial tradition that began in 1904 with the founding of the Caja de Pensiones para la Vejez y de Ahorros de Cataluña y Baleares, "la Caixa". It started by managing family savings and offering its customers pension insurance well before this type of social benefit was established.
"la Caixa" transferred its financial business to CaixaBank in June 2011. Three years later, in 2014, "la Caixa" became Fundación Bancaria Caixa d'Estalvis i Pensions de Barcelona, "la Caixa", in accordance with the Savings Banks and Banking Foundations Law of 27 December 2013.
Since then, the "la Caixa" Banking Foundation directly manages the Welfare Projects which have traditionally characterised the Group. It also manages, through CriteriaCaixa, the Group's investment portfolio. Within this portfolio, CriteriaCaixa has a 49% stake in CaixaBank, as well as stakes in companies across diverse economic sectors that provide vital community services, namely Abertis (transportation and telecommunications infrastructure management), Gas Natural Fenosa (energy distribution), Suez Environnement (water and waste management) and Saba (car park and logistics park management).
The "la Caixa" Banking Foundation is the largest charitable foundation in continental Europe and the third-largest worldwide. Its Welfare Projects include social and charitable initiatives offering solutions to new challenges and needs in society today. Accordingly, a large part of its efforts are focused on meeting the needs of marginalised persons and those groups facing a greater risk of social exclusion. In 2015, for the eighth year running, the Welfare Projects budget remained stable, at €500 million.