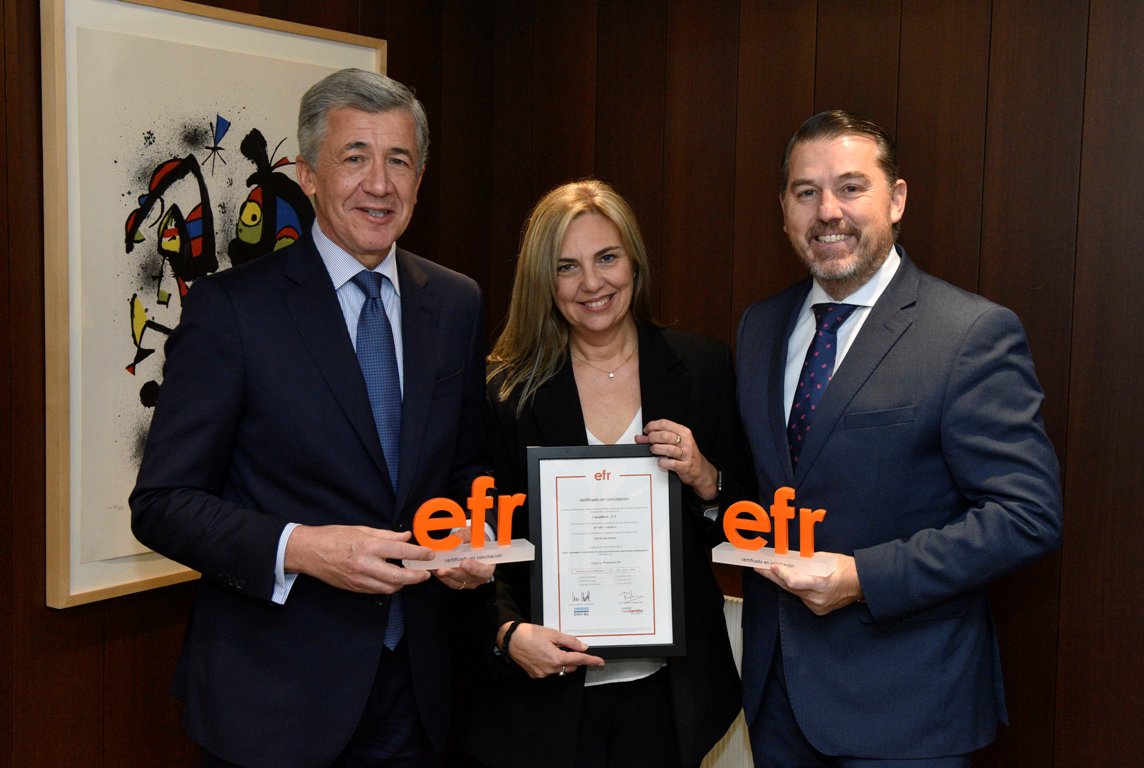 The institution has obtained certification as a family responsible company, which values aspects such as employment quality, flexibility, management and leadership style, family support, professional training and development and equal opportunities.
Through its Wengage programme, CaixaBank promotes gender equality, reinforcing the role of women in the company and in society.
CaixaBank has renewed its certificate as a Family Responsible Company, awarded by the Fundación MásFamilia, which recognises its management model with regard to equality and its commitment to work-life balance policies and initiatives. The certificate recognises aspects such as employment quality, time and location flexibility, management and leadership style, family support, professional training and development and equal opportunities, among other things.
The company, chaired by Jordi Gual and with chief executive officer Gonzalo Gortázar, received this certification for the first time in 2010 for the effectiveness of its policies with regard to equality and its commitment to a responsible management model, promoting the work-life balance. Since then it has gone from a C rating ('committed company') to a B+, the highest rating as a 'proactive business'.
The certificate renewal process has included both an internal and an external audit, as well as an assessment and update of the measures implemented within the institution. 201 interviews were also conducted with professionals within the institution, two focus groups and an online questionnaire with 4,500 professionals.
EFR is an international movement that seeks to advance responsibility and respect for work-life balance. It also bolsters support for equal opportunities and the inclusion of everybody, taking current and binding legislation and collective bargaining as a basis, so that EFR businesses voluntarily regulate themselves in this respect. Currently, the Fundación Másfamilia has the authority to accredit the status of a family responsible company.
CaixaBank and its Wengage philosophy
Companies with the more women on their management teams were 21% more likely to achieve above-average profitability, compared with those with relatively few women in senior, decision-making roles (McKinsey, 2018). Moreover, if diversity is extended to the cultural sphere, the probability is even higher (33%). Furthermore, a style of leadership with a horizontal approach, with characteristics such as empathy, sensitivity and consensus building, is highly recommended in today's organisations that are increasingly flat and inter-connected. CaixaBank has a percentage of 41.2% women in managerial positions and 37.5% women on the Board of Directors, one of the highest ratios of the sector.
To work in this field, CaixaBank has its Wengage diversity programme, a cross-disciplinary programme developed by people all across CaixaBank, based on meritocracy and the promotion of equal opportunities, which works to promote and visualise gender, functional and generational diversity.
The company features in the 2019 Bloomberg Gender-Quality Index, which incorporates 230 international businesses that are pioneers in their commitment to transparency in reports on gender in the workplace.
CaixaBank also adheres to the United Nations' Women's Empowerment Principles; the Voluntary Agreement with the Ministry of Health, Social Services and Equality, 'More women, better businesses', seeking better representativeness of women in management positions; and the Diversity Charter, to promote equal opportunities and anti-discriminatory measures.
Thanks to this commitment, CaixaBank has received various recognitions, such as the 25th anniversary of the FEDEPE Award (The Spanish Federation of Female Managers, Executives, Professionals and Entrepreneurs).