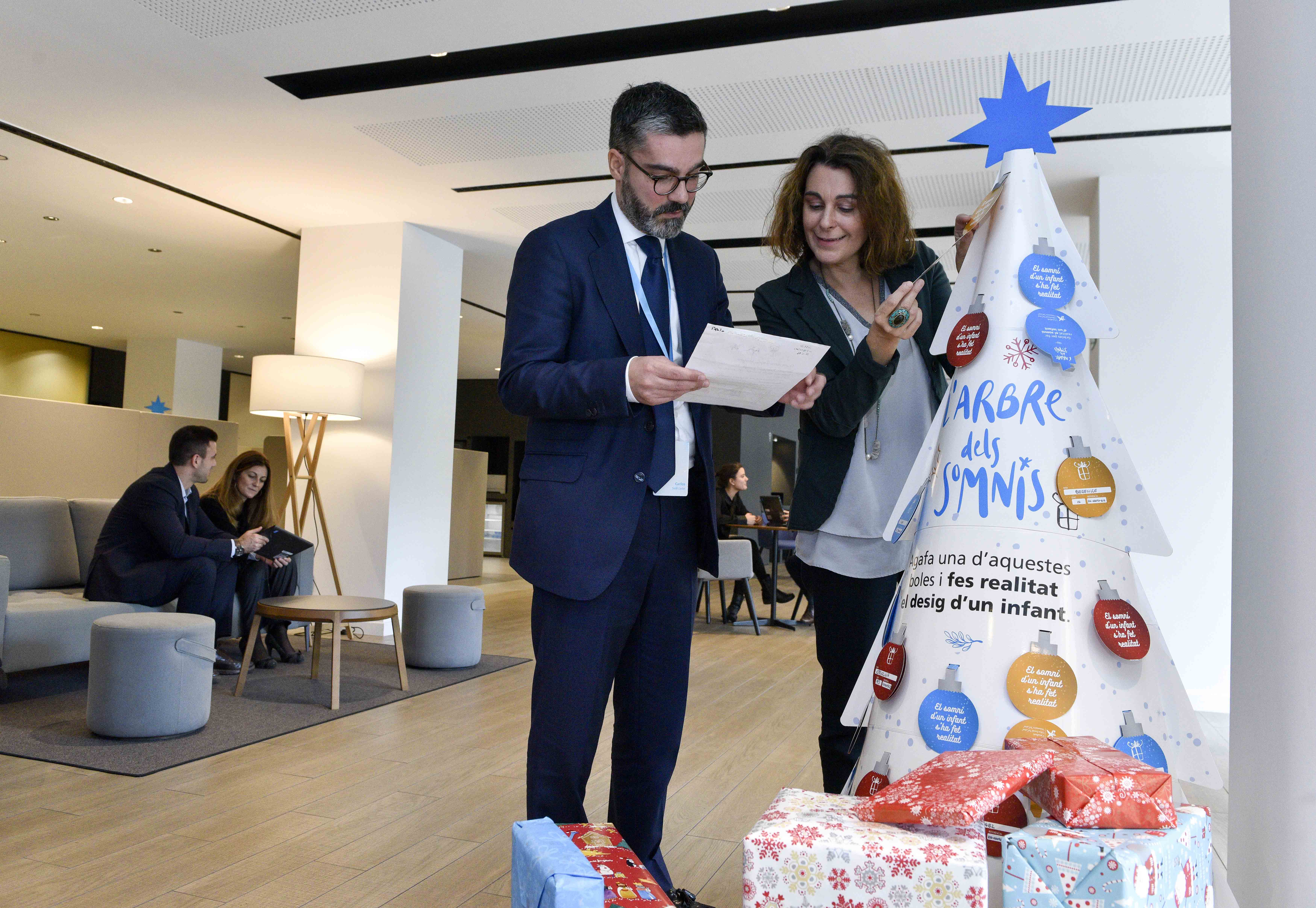 • The Tree of Dreams (Árbol de los Sueños) has been installed in more than 1,000 of the Bank's branches in Spain, where those who wish to participate can go to collect a handwritten letter.
• As part of its Socially Responsible Banking plan, CaixaBank is carrying out a Social Action of its own to channel the charitable efforts and philanthropy of its employees and customers.
CaixaBank has kick-started the Tree of Dreams (Árbol de los Sueños) initiative, aimed at ensuring that 21,000 children at risk of social exclusion can receive a gift over the forthcoming Christmas period. The initiative aims to galvanise mass mobilisation among citizens so that, together with more than 300 charities located throughout Spain, they can make a small wish come true for the most vulnerable people in our society.
One in every three children in Spain is at risk of poverty or social exclusion, according to the latest Living Conditions Survey conducted by the National Statistics Institute (June 2018). Unicef raises the figure to nearly 40%, making Spain the third worst country in Europe for child poverty behind Romania and Greece, both in relative and absolute terms.
CaixaBank is fully aware of this reality, which it experiences on a daily basis through the work undertaken by its branches with families and charities. For this reason, the Bank is carrying out a Social Action of its own, as part of its Socially Responsible Banking model in which it promotes voluntary work and channels charitable actions, such as the milk collection campaign of the Obra Social "la Caixa".
Christmas baubles with a child's name and age
Each Tree of Dreams is made out of recycled cardboard, stands nearly two metres tall and contains 20 baubles. Inside each bauble is the name and age of a child. All these children have written their own letter to Santa requesting a gift, such as a toy, clothes, etc. This will be the present that will be bought for this child. That is, every child will receive the present that they have requested.
The trees have been installed in many CaixaBank branches since 10 December, and since then, people have been able to go to collect a handwritten letter. The present should be left under the same Tree of Dreams before 21 December. The maximum amount will be 40 euros.
The Tree of Dreams has received the support of more than 1,000 CaixaBank branches located throughout Spain, as well as that of the corporate centre in Barcelona, all the headquarters of the regional branches and 10 subsidiaries of the group. No child among those who have written a letter will go without a gift.
Supporting these 21,000 children are 300 charities from all over Spain, including those that collaborate with the CaixaProinfancia programme of the Obra Social "la Caixa", which provide direct assistance to the families during the rest of the year.